---
Silicone Stretch Lids Covers
Stretch lids are made of durable silicone which provide strongly stretchable to fit odd shapes and sizes of containers, perfect For rectangles, Round, Square Bowls, Dishes, Plates, Cans, Jars, Glassware & Mug. Approved dishwasher, freezer and microwave.
Due to the good sealing, food covers allow bowls, cups or other containers to side lay or stack up for saving the space in a freezer. Bowl lids can used for covering the tableware needed to be heated in a microwave or oven.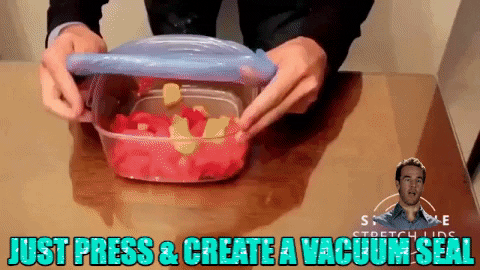 Product features

Safety silicon :

The silicone stretch lids used food-grade material, non-toxic, durable, soft texture, which is 100% Phthalate, Lead, Plastic, and BPA free without worrying about your and your family's health.

Ensure Food Safety :

The silicone stretch lids help you prevent spills to make the residual fruits, vegetables, drinks and other foods keep fresh or avoid foods from spattering in microwave oven.


Eco-friendly :

Silicone is a reusable, durable material. The silicone stretch lids, can reuse it multiple times, helps you say goodbye to the conventional cling wrap and the zipper storage bags.


How To Use :

Place half of the lids over one edge of the container.Start on the side closet to your body.

Stretch the other half of the lid away from you,inching your way around the bowl.

Stretch,then press the top of the lid while pulling the tabs to create a vacuum seal.

Pull the sides to ensure a perfect fit.
Dimensions: You will find a size that fits all your mugs, pots, cups and bowls. 
Colour: Blue
You get 6 covers: 
1/ 2.6" = 6.5 cm (will stretch to 3.5" = 9 cm)
2/ 3.7" = 9.5 cm (will stretch to 5" = 13 cm)
3/ 4.5" = 11.5 cm (will stretch to 6" = 15 cm)
4/ 5.7" = 14.5 cm (will stretch to 8" = 20 cm)
5/ 6.5" = 16.5 cm (will stretch to 9" = 23 cm)  
6/ 8.3" = 21 cm  (will stretch to 11" = 28 cm)

I am satisfied with all the services they offer. Helped me with all the aspects. I haven't expected kind of help they provided me in just Rs.8999. I paid them and started dropshipping on 9th Feb 2021, they gave me some products to test and I was surprised by the sales coming from day 1.It was new for me. Work cycle is so simple and straightforward. They make it so easy to dropship. I really appreciate Team's help with my dropshipping business.


I've Spent 100s of rupees on testing different suppliers and dropshipping companies. But CDesk Dropship is best so far.
Products, Support, Services everything is top-notch.
I'll Really recommend new dropshippers to take consultation from these guys.