---
Modern & Easy Way To Store Food!

🍪
Are You Tired of a cluttered fridge and cluttered kitchen drawers? 
Now you can save a significant amount of space in the kitchen & Fridge, Keep your Snacks Neat & Organised with all New Reusable Jar Pouch.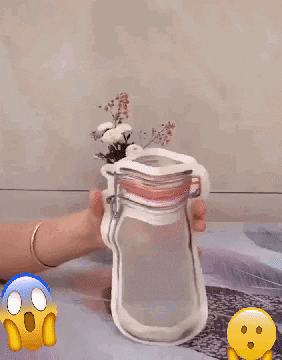 Unique and Cool way to store food!

Our Jar shaped pouch with Zipper is made of high-quality 100% food-grade material which always gives you an extra bit of utility.
The Bottle shape Storage Jar pouch protects the freshness for a variety of food items
You can pack Masalas, Nuts, fruits, veggies and cookies/sandwich etc. for taking on the go.

Seal lock zipper 
With a quick glide to make seal, these snack bags lock in freshness.

Reusable Plastic Pouch

The flat base design helps the bag to stand on its own without any support.
They are Washable, Reusable, and dishwasher safe.

 

Just fill food storage bag, zipper seal and toss in a purse, Book bag or Fridge.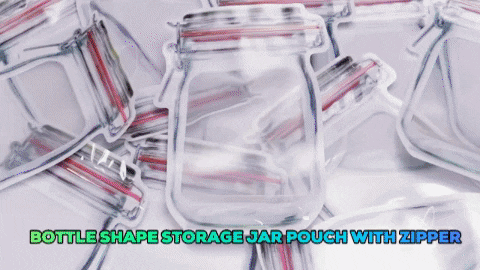 This amazing food storage is operated by a Ziplock airtight  mechanism that prolongs the freshness of a variety of snacks, fruits, veggies, crackers, cookies, and sandwiches, etc. Perfect for travel & outdoors.
It is designed to be reusable and washable, which eliminates the need for a plastic bag and reduces waste output! Now you can contribute & help the battle against plastic pollution! 
No need for carrying heavy jars with these bags, clever design allows bags to stand when filled. Dishwasher safe & durable.
As it saves a significant amount of space compared to traditional jars.
Product Dimension:
| | | |
| --- | --- | --- |
| Medium | 19 X 12.5 cm | 300 Gm |
| Large | 22.5 X 15 cm | 500 Gm |
MUST HAVE GLOVES FOR EVERY HOUSEHOLD
NOTE: Reusable Bottle Shape Storage JAR POUCH™ is in High Demand so Buy your Today Before Out of STOCK! 
💁 80% OF OUR CUSTOMERS bought 2 Pair of JAR POUCH™ and SAVED more!
MUST HAVE JAR POUCH FOR EVERY HOUSEHOLD
NOTE: Reusable Jar Shape Pouch With Zipper is in High Demand so color may be send as per availability! 

I am satisfied with all the services they offer. Helped me with all the aspects. I haven't expected kind of help they provided me in just Rs.8999. I paid them and started dropshipping on 9th Feb 2021, they gave me some products to test and I was surprised by the sales coming from day 1.It was new for me. Work cycle is so simple and straightforward. They make it so easy to dropship. I really appreciate Team's help with my dropshipping business.


I've Spent 100s of rupees on testing different suppliers and dropshipping companies. But CDesk Dropship is best so far.
Products, Support, Services everything is top-notch.
I'll Really recommend new dropshippers to take consultation from these guys.