No More Mess & Wasting Time In Cutting Veggies & Fruits.  Makes Your Kitchen Time Easier With This Quick And Easy To Use Manual Slicer. 🔥
MultiPurpose 12 in 1 - Vegetable and Fruit Chopper/Slicer and Cutter by ShopperLeaf comes with strong base and anti-skid surface to prevent potential damages. This cutter cum slicer is light in weight and easy to use. It comes with a container and lid which allows you to cover and store food for longer durations.
This all in one cutter and slicer has various functionalities for different actions. It is equipped with multi-functional blades to do all the grating, chopping and slicing.
WHY YOU LOVE THIS?
Perfect for grating, dicing, chopping, slicing veggies and more in seconds.
Everything you grate or cut falls into the container below.
Multiple kitchen blades for suitable shape and size of cutting.
Great gift for housewives, mothers, and all cooking enthusiasts.
Made of high quality durable plastic.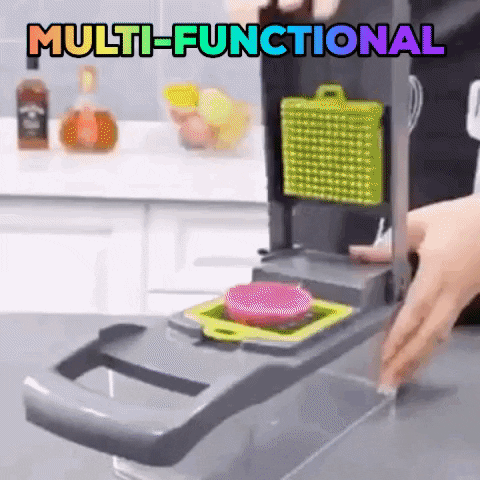 Why choose our smart slicer
Practical and easy to use: When family and friends are coming over for dinner, you have limited time to prepare your meals, this slicer then comes in handy, it will cut all kinds of vegetables, grate cheese, slice potato and cut your fruits into beautiful even sizes in seconds. What's more, it can even create paste-like vegetables such as mashed potatoes.

Saves Time & money:

 Made with stainless steel blades that are sharp enough to slice your fruits or vegetables in seconds, saving you 70% 0f time. Plus you don't need to buy other tools for similar purposes.

Perfect Gift Choice

: If you are looking for a gift for a friend or loved one, then you have just found the perfect gift. If they are professionals or busy parents, then this mandoline slicer will be a lifesaver for them as it will help them manage the time spent in the kitchen.
Easy to Clean & Storage Container

: It is very easy to clean and dry up after use. It has its Storage on the side which is a container in which to keep blades after use, so you never have to lose them or spend time looking for them.

Safe for the body

: made with food-grade stainless steel and BPA- free materials making it eco-friendly and safe for the body.
12 in 1 Super Slicer's Package Incude:

1. Cutting insert with an integrated pin grid
2. Cutting-base
3. Transparent receptacle (capacity 1500ML)
4. Cling-lid containers for collecting
5. Blade insert (6mm*6mm or 12mm*12mm)
6. Blade insert (6mm*36mm or 18mm*18mm)
7. Knife for quarters or eighths use
8. Stamp eights cutter
9. Partial coverage for all blade inserts
10. Professional peeler
11. Planers use with blade guard
12. Product holder with a guide